| | | |
| --- | --- | --- |
| 『 Want You 』 | Tony DeSare | 0:42:29 |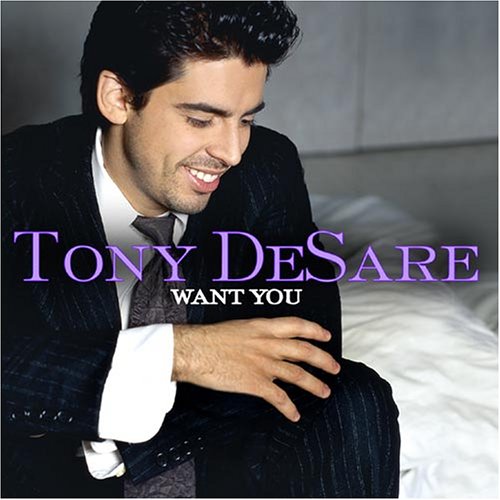 | | |
| --- | --- |
| 0:42:29 | Usen C50 2005年07月04日3枚目 『 Want You 』 |
| | 1 Baby,Dream Your Dream(03分32秒) |
| | 2 Just In Time(02分35秒) |
| | 3 Want You(04分39秒) |
| | 4 Two For The Road(04分06秒) |
| | 5 I Wish You Love(03分08秒) |
| | 6 How I Will Say I Love You(03分10秒) |
| | 7 Another Chance For My Heart(04分41秒) |
| | 8 We've Got A World That Swings(03分12秒) |
| | 9 Something Gotta Give(02分58秒) |
| | 10 ( I'd Have It All ) If I Had Drew ( From The Motion Picture My Date With Drew )(03分03秒) |
| | 11 Marry Me(02分49秒) |
| | 12 Movin' On(04分36秒) |
Artist: Tony DeSare
Recording: Want You

Release# CD-83620
Compact Disc Price: $15.99 $14.99 sale!



After headlining New York's hottest nightspots like Birdland, the famed jazz club, and the
Cafe Carlyle, the elegant supper club, singer, pianist and songwriter Tony DeSare makes his
first big international splash with Want You, his debut release on Telarc International.
Tony DeSare is a performer whose infectious joy, wry playfulness, and robust musicality
have earned him a reputation as one of the city's most thrilling young talents. Want You
is a savvy combination of original compositions by Tony and timeless standards, featuring
some of the finest session musicians in New York, including the legendary guitarist Bucky
Pizzarelli, pianist Tedd Firth, guitarist Joe Palermo and Tony's longtime sidemen Mike
Lee on bass and Brian Czach on drums.

Tony's original songs are created in the traditional mold, yet are refreshingly sophisticated
and contemporary. The title song is a haunting, noir-inspired dissertation on the mysteries
of love, while "Movin' On" is a cool, breezy take on the universal theme of dealing with
life's big changes. "What I want to accomplish as a songwriter, basically, is to move
someone or somehow change their life," Tony says. "A song doesn't need to shake you
to the core to make a difference. If it makes you laugh out loud, or brightens your day, or
even feel sorrow, I know I've done what I set out to do."

A significant highlight of the CD is "(I'd Have It All) If I Had Drew," the main title theme
to My Date With Drew, an independent documentary feature film about a guy who has 30
days and $1100 to get a date with Drew Barrymore. It has been featured on "The Tonight
Show" and in Playboy, Entertainment Weekly and Premiere. The film?awarded top honors
at the New York Gen Arts Festival, the HBO Comedy Arts Festival and the Vail Film
Festival?will be released in theatres nationwide in 2005.